Buddy Ray Offers Cheap Duct Cleaning
For this week only we will clean your ducts for 19.99! Trust me friends, you have no idea how much garbage is in your ducts.
If you smell something funny in your home, if you're bothered by excess dust, house plants dying, food going bad in the refrigerator or the dog is barking too much lately - this may indicate nasty smelly mold growth in your air conditioning system!
Call us now to receive your free A/C Duct inspection (a $1,995 value)
Be sure to mention the Internet Special Code "999hillbillyair"
Our services include: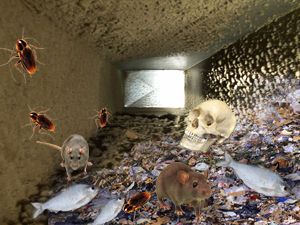 AC Duct Cleaning Sanitizing And High Gloss Polish Dryer Exhaust Location Confirmation.
HVAC Inspection Assessment New Car Air Freshner Mold Approximation & Remedial Language Skills.
Duct Refurbishment Maintenance General Agreements.
Air Handler Testing Building Size And Shape Diagnostics.
Why is your indoor air quality so important?
The United States Air Protection Agency (APA) states that if you did not have indoor air you would not be able to breath unless you were to go outside which would defeat the whole purpose of having a house anyway – you would just be living in the front yard.
The APA also states "do not run the AC system if you know, or suspect, that it is contaminated with mold" In fact don't even stand close to it, look at it, or throw a empty beer can at it.
Why Choose Buddy Ray's A/C Barn and Duct Cleaning?
B.R.A.C.B.D.C. is your number one cheap source in providing all-inclusive levelheaded obligatory interior space value solutions.
Call us today and we'll be on our way!