Almost Everything You Need To Know About Us
None of us are going to live forever so we don't worry too much about what's going to happen a few years down the road.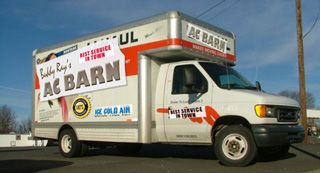 If you have a refrigerant leak it's not the end of the world. You should always have fresh refrigerant in your lines anyway. If we have to dump some hazardous material in a ditch somewhere that's only going to save you money in recycling costs. Besides, a few years from now our government will find a way to clean everything up like they always do – that's why we pay taxes.
Of course we do care about sweet mother earth and always recycle when it's convenient or financially beneficial.
Our in-house metal reclamations department refurbishes everything from copper wiring to evaporator coils. Our coatings division located just out back of the wood shed uses only the best rust inhibitive paints to protect your investment for the months to come.
We hire only God fearing authentical Americans who speak English real good.
We also believe in giving folks a second chance. Everybody has a little bad luck now and then. Just because someone was dumb when they were young and held up a Taco Bell with a nail gun, or got drunk and tried to outrun the police in a riding lawn mower - that don't make them a bad person. However we do discourage our employees from drinking before noon.
Ask about our free firearm promotion. Get a Remington 12 gauge pump shotgun with every new Air Conditioning system!
"No fancy trucks or uniforms – just the lowest prices".